The world is full of colour for Rozelle
Rozelle, who was previously featured in Get It, in its September 2016 edition, has managed to make quite a name for herself since first putting oils on canvass.
"I have no formal training. It's just a God-given gift," Rozelle said whilst seated outside on the veranda of their home on their farm. "I made all of these too, all by myself," Rozelle grinned, pointing at a table with a set of chairs and a pair of side tables, "when I feel uninspired and my art hits a low point, I like to occupy myself with other creative pursuits like woodwork."
Rozelle hasn't formally exhibited her artwork in about three years, and hadn't painted for about two years prior to January of this year.
"I received the same critique over and over again on my earlier paintings. People would tell me that they adored my art, but that I lacked a 'trademark' – something that would make me stand out. Dali had his melting clocks and Picasso had his abstract portraits, but I didn't have anything that made my art stand out as unique. People didn't walk into galleries and say, 'Hey! That's a Rozelle!'" she said.
"I prayed for years that God would send me a sign. That he would show me the way to finding my trademark," said Rozelle, eyes glistening, "and in December of last year, it finally happened."
Rozelle leaned back as she recounted the seaside holiday home where she and her family had spent their December vacation.
"There was this painting hanging on the wall that was just so incredibly vibrant and colourful," Rozelle recalled, "and it just felt like God was speaking to me. I went home with a new sense of purpose."
"It's actually quite ironic. Three years ago a friend, Petra and I were sitting in McDonalds, praying for God to relieve the droughts in our personal lives and on the farm, when suddenly Petra turned to me and told me 'God is going to show you what your trademark should be, and it's nothing like you'd expect.' I didn't take much notice of this back then, but looking back I realise that what she predicted did come to pass," Rozelle said.
Rozelle's previous artwork was popular. She tended to paint still-life, centring her art on farm life, everyday objects and animals.
She was quite successful with these paintings, having been invited to exhibit at Portchie and Alice Art Galleries, and selling them for anything from R8 000 to R16 000; but the monetary success wasn't enough for her whilst she was still lacking her 'trademark.'
Rozelle came home from her December holiday and started painting.
Suddenly, her animal portraits transformed from the epitome of realism to a form of abstract expressionism. Where previously Rozelle's paintings were filled with deep, earthy browns and natural blues and greens, now they suddenly contained little bursts of colour.
"When I'm feeling a little low, and struggling to find the inspiration to paint, I like to read inspirational quotes or listen to Joyce Meyer CDs," said Rozelle, "so I tried to work a dash of inspiration into my artwork too."
Within eight months of introducing her new range of paintings to the world, Rozelle managed to sell approximately 40 paintings; a feat practically unheard of. "I've decreased the prices of my paintings since starting the new range. I want them to be affordable to your average man. I've been painting quite a few people's pets. This new range of paintings is all about love to me."
When asked what her 'method' was, Rozelle giggled, "I always start with the eyes and work my way out from there. I think the eyes of an animal say everything you need to know about love."
Rozelle took a sip of her coffee, her own dogs playfully tumbling about at her feet, "advice?" she asked,
"I guess if I had to give upcoming artists advice it would be to never give up. You will hit lows when your paintings don't sell and you don't feel inspired; but those times pass too. If the advice is to someone wanting to start painting, my advice would be to avoid art classes, unless of course the teacher is an accomplished artist and has exhibited art him or herself," Rozelle explained, "the problem with art classes is that you end up taking on the style of whoever is teaching you, without ever finding your own unique style. If I had to give advice to parents of artsy children? Don't discourage them! There is enough work and there are enough opportunities in South Africa for artists and creative-souls. Don't kill your artistic child's dreams by being negative about their future financial situation."
When asked what an average day looks like for her, Rozelle laughed, "well I haven't been out of the house in about three weeks because I've been getting my art work ready for Aardklop and finalising the farm's accounting books… but really, I'm just a normal person."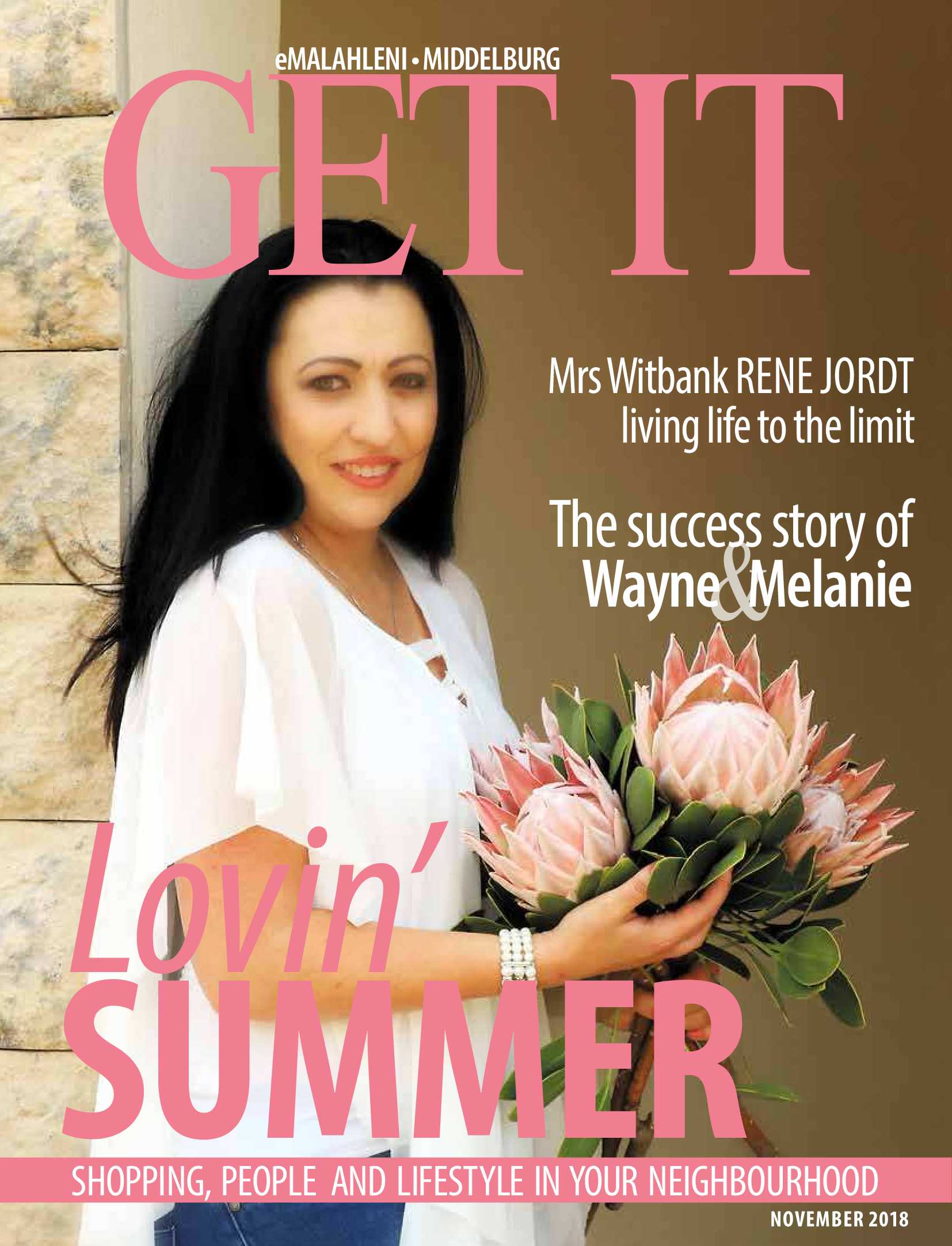 is a national brand of premium free magazines available in centres across the country.
to see other Get It magazines in the network.