Wayne the pilot of his own life
Family man, businessman, adventurer, philanthropist, visionary – Wayne van Rooyen is the pilot of his own life, and the sky is not his limit. When Wayne sets his mind on something; it happens!
With his no-nonsense approach to life, Wayne has garnered the respect and admiration of his peers in the business arena.
But all work and no play makes Wayne a dull boy, and dull is one word that cannot be used to describe the mountain of a man.
Both in person and character, with Wayne its go big or go home and that is why VR Diesel & Turbo has endured over the last 20 years, expanding to the extent that it has.
It is also very true that behind every successful man, there's a hugely successful woman and in Wayne's case, he couldn't have asked for better in his wife Melanie, Wayne spontaneously adds "and certainly the most righteous, loving and fair woman that I could ever have wished for.".
Together they have steered VR Diesel from humble beginnings to prominent ends, and their success shows no signs of abating with the business attaining its second Bosch service accreditation on its 20th anniversary.
What's more, entrepreneurship runs in the family with Wayne and Melanie's sons Gavin and Kyle also starting up their own Whitewolf action lifestyle clothing range this year.
Considering the fact that Gavin is only 19 and busy with his 2nd Year B Com Accounting Sciences Degree and Kyle in Grade 11, the apples certainly don't fall far from the Van Rooyen family tree!
The couple are also both active members of the Middelburg Airshow organising committee, while also serving together on the Middelburg Aeroclub management.
Despite long hours at work, Wayne always ensures time for relaxation and nothing pleases him more than having his eye in the skies. In 2012 Wayne had simply had enough of traveling hundreds of kilometres by car to get to his clients.
He walked into Spar, bought an Aviation magazine and paged through his acquisition over a beer.
There and then Wayne decided to begin with his Private Pilots Licence and later a Night Rating for nocturnal flights.
But for Wayne the thrill of a Pilots licence was short lived and pretty worthless without wings, so he acquired the luxury of a six seater Piper Saratoga Aircraft, which completed his bucket list dream.
His next aim is to obtain his Powered Paragliding Licence in between his hunting and angling excursions.
It might seem that Wayne never sleeps, but he does, and his display cabinet full of self made knives bear testimony to it, since the hobby was conceptualized in bed during a screening of Forged in Fire.Wayne uses Bohler N690 stainless steel which is imported from Austria to craft his knife blades, the knife handle slabs are made from a range of different materials like bones, ivory and wood, usually all polished and finished to the highest standards.
Although he doesn't sell his knives, some have been donated to Charity fund raisers and many knives simply made for friends and Family.
Melanie on the other hand enjoys leisurely trips overseas when she is not fully embroiled with her role as business owner and or Church's women's outreach programmes.
Wayne shares his wife's passion for charity and mentions that one of the most memorable moments in the air came thanks to his involvement with The Children's Flight charity, in which pilots took disabled and disadvantaged children for flights over Midrand.
"I just love their motto of "Fly, Feed, Love and Inspire." It gives me great pleasure to broaden the children's horizons, the absolute joy and admiration in their eyes make every drop of Avgas fuel worth the while," Wayne says.
The couple's daughter Chené is a happily married teacher in Pretoria, which is a labour of love she inherited from her father's love for children.
"And animals!" Melanie chimes in; adding that apart from their Amazonian Piranhas, the family also have three cats and three dogs.
One thing is for sure, the Van Rooyens definitely do everything in overdrive, its in their blood.
And, with a little added love, sweat and tears, the Van Rooyens prove once and for all that fortune favours the bold.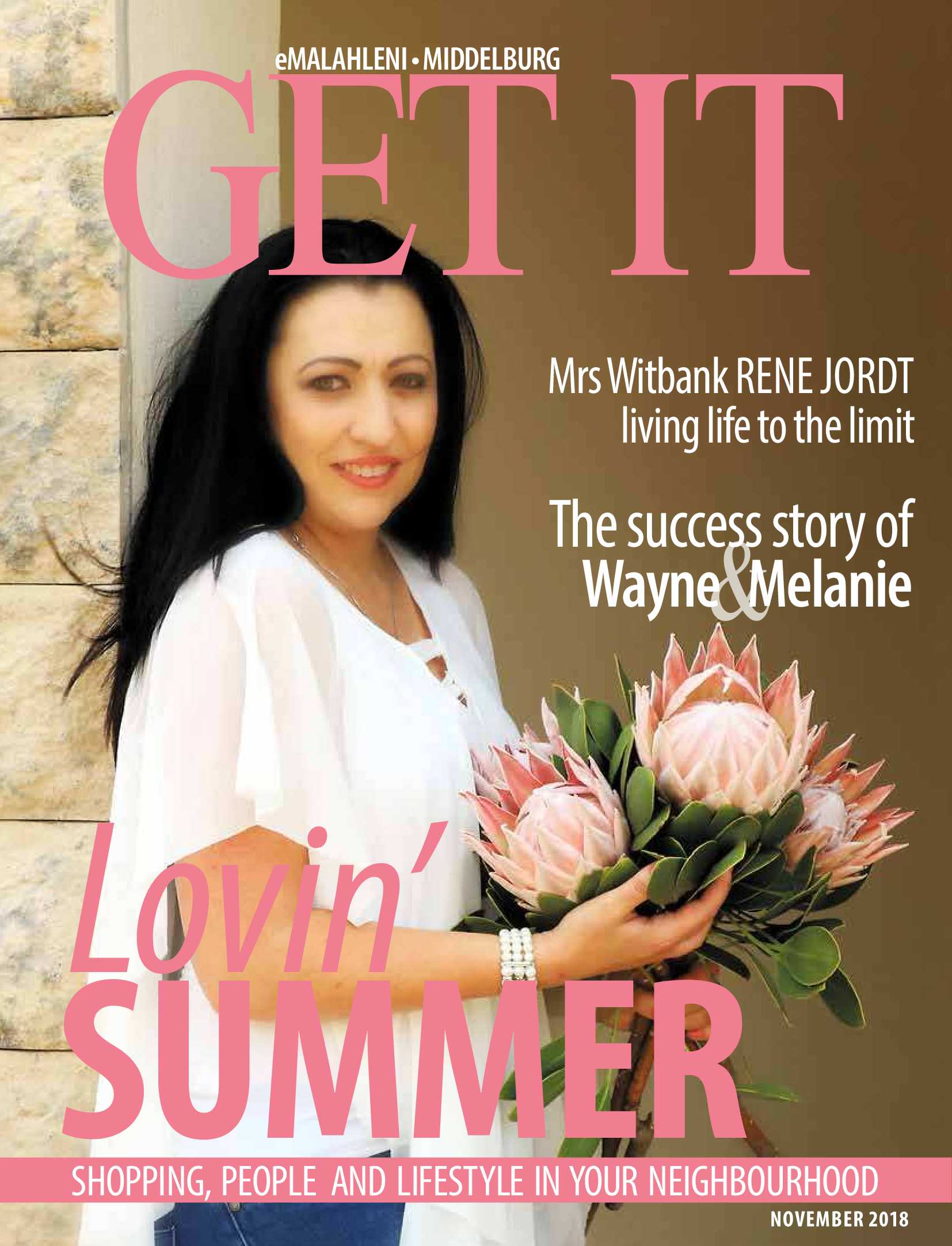 is a national brand of premium free magazines available in centres across the country.
to see other Get It magazines in the network.