Research on Marion Island
Dineo Mogashoa (22) and Stephan Keys (30) both grew up in Middelburg. They were selected to be part of the research team that travelled to the island in April and will be staying there for 13 months.\
They spoke to Get It Middelburg-eMalahleni about getting mired, learning to make delicious meals with no fresh fruit or vegetables and to explain what a 'seal killer' actually does.
Dineo attended Thushanang Primary and Sofunda Secondary School in Mhluzi before obtaining a BSc Environmental Sciences degree with honours in Ecology from the University of Pretoria.
Her honours supervisor told her about his research project on Marion Island, inspiring her to apply to be part of the team.
Dineo says that her fondest memory of home is playing with a skipping rope with her friends in dusty Mhluzi streets. Children's parties at McDonald's were a highlight she will never forget.
She is on the island as a 'winder' and botanist. Being a winder entails collecting data from one of 17 wind stations on the island and sending it back to South Africa. With wind speeds of more than 40 knots, it is a challenge not to get blown over and Dineo says she and her field partner often cling to each other to avoid being pushed around by the wind.
With most of the stations situated far from their base, they undertake long hikes through marshy terrain and often stay over in huts.
Dineo says that getting mired for the first time was one of the strangest experiences she has ever had. Travelling long distances over swamp lands means that you are going to get stuck in the mud at one time or another.
"It is a very weird and stressful experience. It feels like there are aliens underground pulling you down. If you get a really bad mire, you can sink all the way to your waist. This is the only time where being so small is not bad because I don't get mired as much as everyone else," Dineo says.
She says that she misses home, where you can go to the shops if you need something, but loves the island because of the remote beauty with no infrastructure to spoil the view.
The team plays games, has access to a braai area and game room and hosts themed birthday parties when they are not working. Dineo says that in her spare time she exercises and is presently learning Afrikaans and Spanish, she is also refining her honours project for publishing.
She plans on entering the work environment when she returns and says she would love to get a job as an environmentalist in the Middelburg or Nkangala region.
Stephan started his school years at Soetdorings Kleuterskool before moving on to Middelburg Primary and then Pretoria Boys High. He says his most memorable times in Middelburg were spent on his bicycle in the streets of Gholfsig and Kanonkop with his two friends Duncan Counihan and Brendon MacMurry.
Ginelli's was his second favourite local restaurant with his parents' kitchen taking first place. His parents, as well as his younger brother Ernst, still live in Middelburg.
He attended the Nelson Mandela University and completed a degree in Biological Sciences with a major in Zoology and Botany as well as a post-graduate certificate in education and received honours in School Management. He is currently busy with his Masters in Education Research.
After getting married in January, Stephan decided to follow his wife Danielle to Marion Island where she is doing research for her PhD.
The Keys couple form part of the Marine Apex Predator Research Unit. They do research on seabirds and seals on Marion Island. This includes tracking the animals at sea, monitoring growth rates and breeding success on the island.
Various albatross and other bird species, penguins and seals form part of their research subjects.
During an average day on Marion Island, Stephan and his teammates walk long distances through rough terrain to reach their destination. There are no roads on the island,
"You start getting used to it and you appreciate the clear skies and rainbows a lot more," Stephan said.
They are currently busy with research about the wandering albatross and great-winged petrels. Walks between nests and waiting for an albatross to return can take hours.
"The Wanderers are enormous and have very large sharp beaks, so you have to be cautious not to lose a finger," said Stephan.
"Next month will be quite interesting, as we start working with gentoo penguins. Apparently, they can outrun a human, we will have to see what happens," Stephan told Get It.
The extreme working conditions have provided for some comic incidents, like when his wife Danielle had to catch a wandering albatross almost the same size as her.
"All I saw was this big white poof with legs coming towards me and a voice behind it telling me to stop laughing," Stephan recalls.
The team finds ways to entertain themselves, like an assassin game currently being played at base camp.
"Everyone is an assassin and each of us is given a secret target. You can avoid being killed by walking around the corridors singing a Disney or Justin Bieber song or pretending to be an animal," Stephan explains.
Like Dineo, Stephan has been mired on Marion.
"If Marion doesn't like you on a particular day, she will engulf you. I've spent many a day hiking around with muddy, flooded boots."
Stephan's main aim on the island is collecting valuable data to monitor environmental changes and how it affects man and beast. Other than that he hopes to spend his time
"finishing my Masters, getting super ripped, learning isiXhosa, making music and writing poetry."
Stephan says other than ordering the largest plate of sashimi he can find when he returns home, he and his wife do not have any concrete plans for the future.
To keep track of what these two dynamic Middelburg residents are up to, follow Dineo at "cyclonedineo" and Stephan on "birder_on_marion" on Instagram.
• Seal killer is a shortened version used to describe someone doing research on seals and killer whales.
"Unlike in the past where sealers and whalers were known to hunt these animals, now they study them instead," Stephan explained.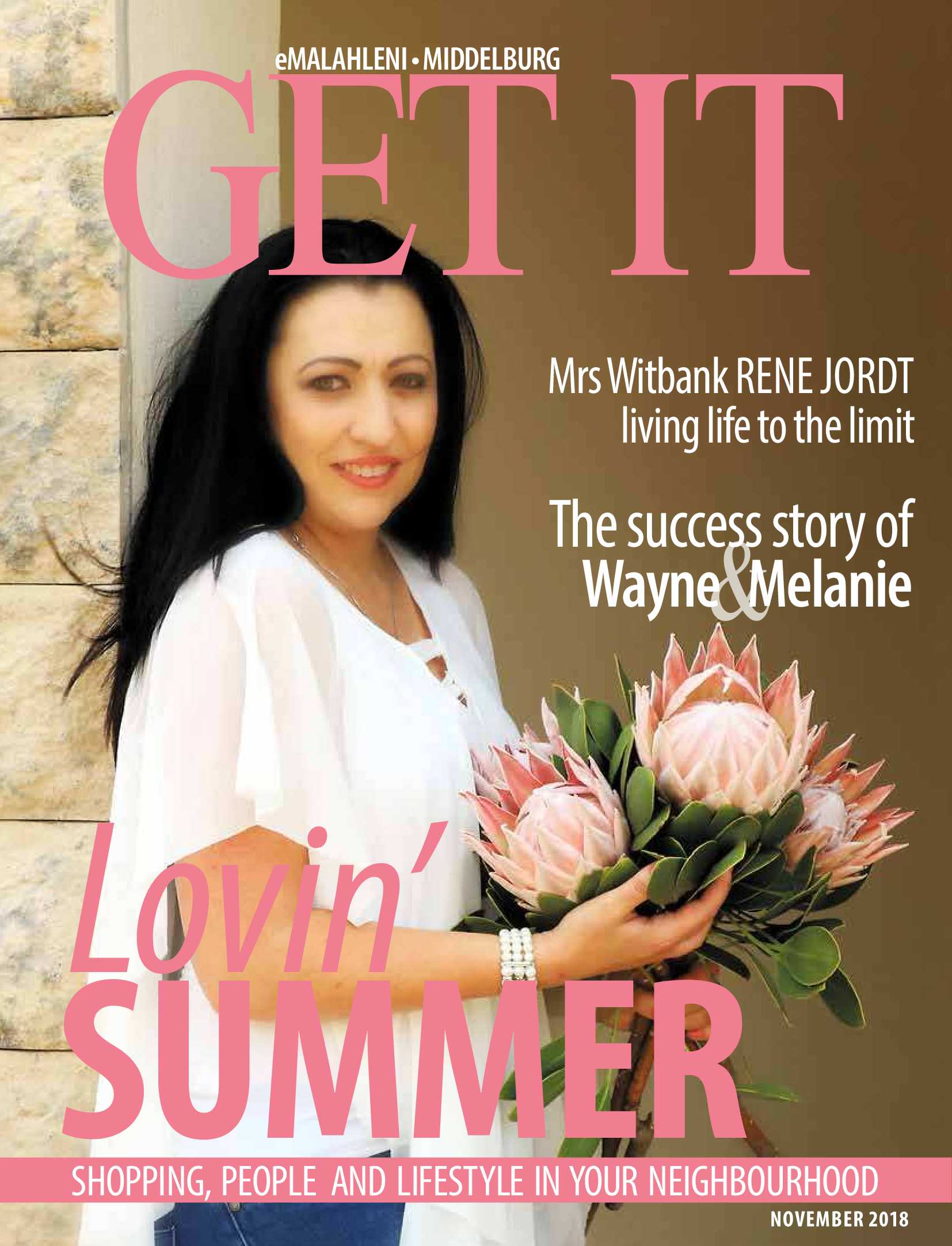 is a national brand of premium free magazines available in centres across the country.
to see other Get It magazines in the network.