Picture perfect wedding
Anri Groenewald is a professional photographer specialising in wedding photography. Get It spoke to the talented Anri to learn what couples should know about contacting a photographer to capture their special day.
Firstly, quality comes with a price. Couples should budget for at least R10 000 for a decent wedding photographer though packages vary quite broadly from photographer to photographer.
With the amount of effort going into organizing a wedding, a decent wedding photographer will insist to capture everything the hard work culminated into on the day of the wedding.
Anri says couples should expect the wedding photographer to be like their shadow on the wedding day.
A wedding photographer should be present from the preparation of the bride and groom before the vows, till well into the reception when all formalities and traditions have been photographed.
"Couples don't realize how fleeting the wedding and reception actually is, so much is demanded from the bride and groom on their big day, it's only when they wake up the next morning that they realize how much they actually missed, and that is where wedding photographers become very important, we're the bride and groom's eyes and ears," Anri says.
Wedding photographers must have a passion for love.
"Personally I feel very privileged to be part of someone's love story, to see them commit to a lifetime of togetherness and love," Anri says.
A wedding photographer must also have composure and patience. "Parents of the couples, other family members and bridesmaids can often be very difficult to deal with, they want the best for the couple and may often come with suggestions on how and where to take photo's," Anri says.
To eliminate possible confrontations on the wedding day, Anrie meets with couples before the wedding for a detailed brief on what is expected of them and their families.
Anri prefers taking family photo's immediately after the vows followed by photo's of the couple and their wedding parties.
Thereafter she prefers to have the couple all to herself until she's assured she's captured the perfect portfolio to present to the couple.
Not all weddings take place in October, thus time adjustments also have to be during winter months when photographers have to compensate heavily for lighting.
Grooms are often shy or eager to get to the reception –
"The easier couples and their families make it for the photographer, the quicker everyone will get to the celebrations," Anri advises.
Depending on the package, couples can expect between 350 and 500 edited photographs.
The editing process can often take some time and will be presented to the couple on a CD so that they can decide on print sizes and quality themselves.
Anri does wedding books and canvasses on request but says that couples shouldn't expect the perfect album overnight.
Apart from the actual photography fee, couples who marry away from home should also budget for travelling fees and lodging if necessary for the wedding photographer.
"I've been flown to venues on the Botswana border and have even taken wedding photo's on ship decks sailing to the Portuguese Islands," Anri says.
Couples are also veering away from tradition and Anri says this often opens up avenues for very memorable weddings, like inner city rooftop weddings, one of which she photographed two weeks ago.
She has also noted a change of atmosphere at weddings with couples moving away from the traditional family weddings to a more social setting with semi-formal dress codes and informal venues.
"Just make sure that the photographer knows the in's and out's of your entire day, the rest is up to me".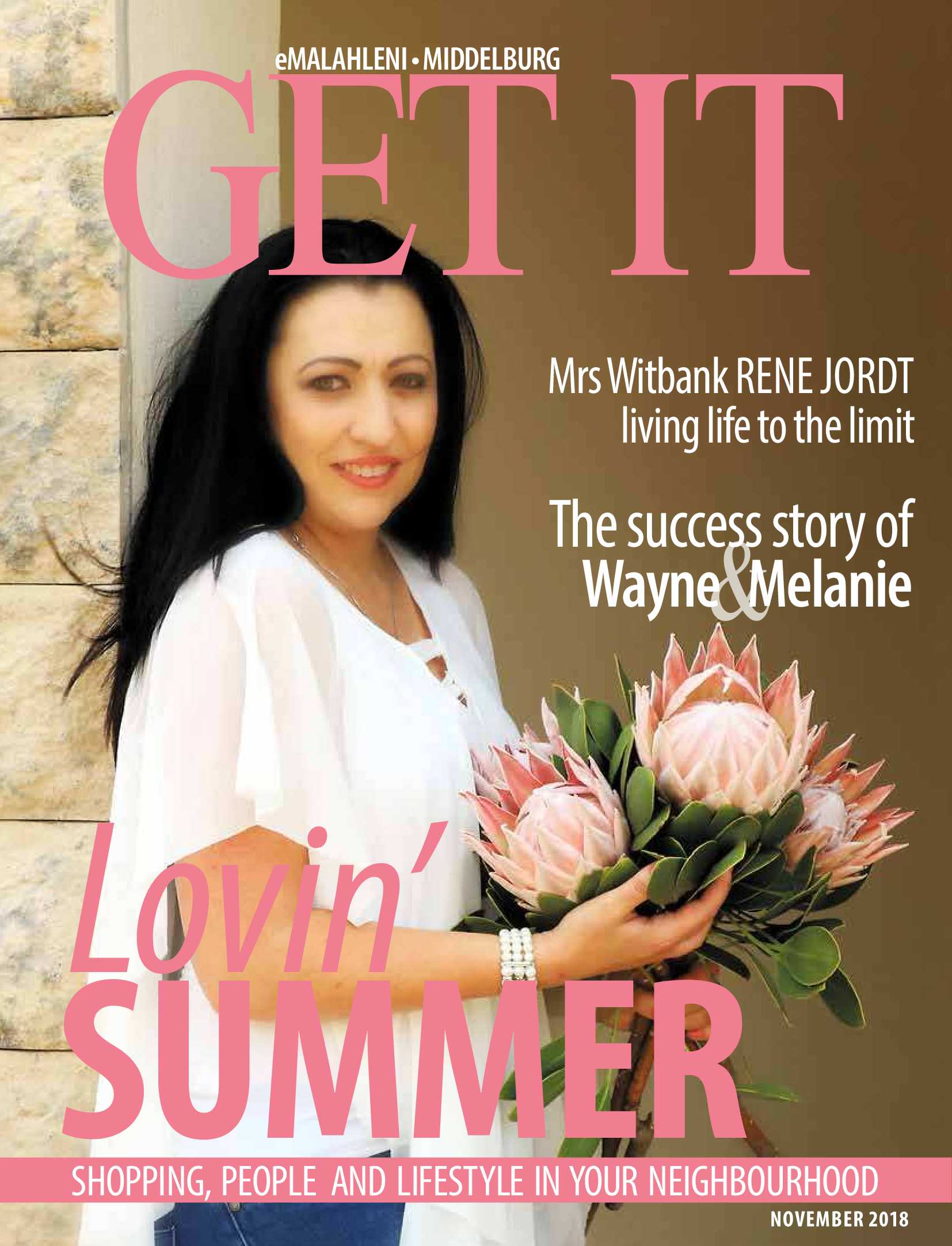 is a national brand of premium free magazines available in centres across the country.
to see other Get It magazines in the network.