Your only limit is you
The wide-eyed girl, who watched every move her mom made in the gym since the tender age of seven, today has a fitness revolution going around in the city. Everyone is flocking to G's Bootcamp and to the rhythm of upbeat music eMalahleni is getting fit.  
The leader of the pack is none other than the very fit and beautifully slender, Gusmari Maritz.
Gusmari literally grew up in a gym when she tagged along with mom, Gusta Vorster, who joined and later owned 'In Shape Gym'.
"After class I played gym-gym right away. I loved it so much even my four-year old brother was caught in the cross fire of my newly discovered passion. In those days they rocked the leotard thing so I dressed him in ski pants and a crop top. My brother and I gave some legit classes in my studio, which was only my small room. If my brother was not one of my instructors, he had to build me gym equipment from his Lego's because my Barbies had to be in shape as well. I loved it more than anything in the world," the bubbly woman said.
At age 15 Gusmari enrolled for her first fitness course in Johannesburg.
"It took me about a year to finish. I was also the youngest to do the course but passed my theory and practical exam at the end of 2001. Soon after that I started to give class at my mom's gym. Under her protective wing and shadow I could learn, observe and grow."
In Grade 12 she became an instructor at Health and Recreation Club.
But life took another direction for Gusmari. Her love and passion for God saw her studying as a pastor.
"Just before enrolling for my degree, Pastor Warren gave me some advice and encouraged me to pursue a future in sports management or something in that direction. His opinion was so "on point". Even though I did not complete my degree I believe it was a fundamental part of my journey and made me the person I am today."
Marriage and pregnancies did not stop Gusmari.
"In 2007 I got married to Dirk, still gave class at my mom's gym and not long after that fell pregnant with Janiel. I remember giving class up until 35 weeks, while he was born on 37 weeks. With Zian I exercised up until 38 weeks and four days."
It was in that time, where things started to shift into the rougher side of life. Her mom had to sell the gym and she had to let go of the place in which she dreamt huge dreams.
"I always believed that it was going to be my inheritance and that I was going to be the sole proprietor of In Shape Gym. Although I had another business at that stage I wasn't in the financial position to buy the gym for my mom. To this day I have had dreams of myself being in that gym and giving class."
Gusmari turned to the one thing that had become her anchor in life, exercising.
"I found myself in a hole of depression and exercise was the only thing that made me feel alive. I vividly remember the days I ran around the block crying. I was really in a hole and I needed the Lord's help and guidance. One day I wrote a note on a small piece of paper saying; "Lord, transform me by renewing my mind." (Rom 12:2) And oh boy, little did I know that God heard my silent cry for help."
God's plans are always on time. Gusmari realised that when a friend invited her to go and gym with her. There she was approached to give classes.
"The moment I pressed play and the music started for my first class, I had to fight back the tears! I was totally overwhelmed and filled with joy. I loved giving class but after a few months I found myself in that same empty spot. Every day I drove down into The Planet Fitness parking lot, I would declare these words out loud; Here, Ek is gemaak vir soveel meer. Without realizing what God had in mind for me."
In January 2014 a friend messaged her and asked whether it was possible for her to give her and a few mommies from her play-school some workouts in her free time. That was the beginning of an amazing new chapter in Gusmari's life.
On February 4 six of them started with Bootcamp type workouts on the field at Reyno Ridge Club. In March there were 20 ladies in May, 50 and as the numbers increased and the months went by it brought up new and bigger challenges.
"Weather, amongst them all, was one of my greatest foes. In summer the ladies came an hour early to reserve their spot in the shade. If you were late; you got a free tan with your workout. Rainy days were the worst for me. Messages came 'flooding' in from 10:00 in the morning to five minutes before class to find out what we'll be doing if it rains. If the rain didn't scare people away in the summer, hibernation sure did a good job at it in the winter. I didn't have access to the hall at that stage so we pitched a tent on the field to bring some relief from the weather.
"When we eventually gained access to the hall, it was only on certain days of the week. The challenges never stopped, from exploding toilets, blocked toilets, stepping in the rain, fixing speakers on the spot to excruciating cold in the winter. We never let any challenge slow us down. There was always Bootcamp no matter what. "
While Bootcamp grew, Gusmari's mind expanded and she had new ideas that meant she had to cross some new bridges, step out of her comfort zone and think out of the box.
From big tyres, to PVC pipes filled with sand and concrete, buying every drum stick in eMalahleni, launching new classes, hosting events, recruiting new instructors and more responsibilities. We went to Warrior Races together, which was an achievement on its own. We held our first marathon in the parking lot at Sportsmans Warehouse in 2016 and in 2017 the G's Bootcamp Marathon moved into The Venue at The Ridge.
Four years after that message from her friend, G's Bootcamp stands on 28 various classes per week, two venues, hands-on instructors and hundreds of Bootcampers.
"Never in my wildest dreams did I imagine that six ladies under a tree would grow into a business. I still don't have a business plan," she said.
And to put the cherry on the top, Gusmari was chosen as the brand ambassador for Trifocus Fitness Academy.
As the sun sets, Bootcampers follow Gusmari's prompts … "eight, seven, six, five, four, come on ladies, three, two and one." They have discovered something valuable in-between the stiff legs, sore muscles and sweat, live your dream. They have a remarkable woman setting the pace and living her dream.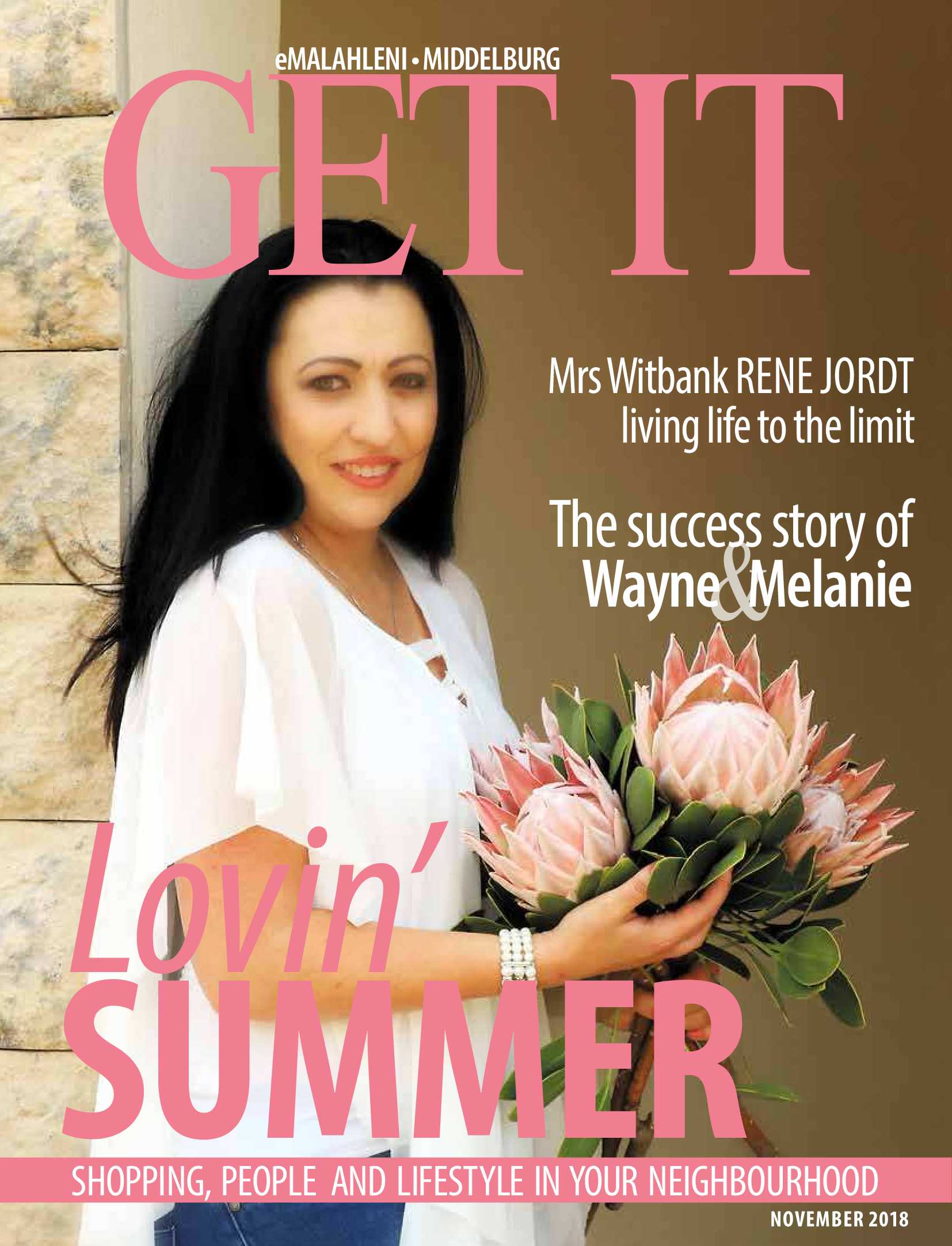 is a national brand of premium free magazines available in centres across the country.
to see other Get It magazines in the network.