The women behind the Middelburg Airshow
Taking time off busy schedules often meant sacrifices, such as from family time and work responsibilities, to work hard and deal with all the red tape and challenges that present itself to every other organising committee.
There's a general consensus that the lead women are the true unsung heroes that brings the reality of a dream come true – and that is taking care of all their responsibilities in making the Airshow an unforgettable spectacle that will forever linger on in the hearts and minds of thousands of people.
In doing so, these women have left a legacy behind, that only themselves can better.
Melanie van Rooyen

Melanie schooled and matriculated in Middelburg, and became involved with the Airshow, initially as secretary, due to her husband's responsibility as chairperson of the Middelburg Aero Club.
The magnitude of the airshow resulted in Melanie taking responsibility for admin, general enquiries, vendor-related enquiries and overall marketing of the event.
"Putting together the largest and best organised Airshow that Middelburg has ever seen has required the tireless effort of a sprawling network of volunteers and people passionate about aviation. There's challenges to keep everyone happy and the logistics can be overwhelming at times," says Melanie.
"It's an incredible feeling to see the result of our work, and to experience the absolute amazement and appreciation from the public was indescribable. This is ultimately a community event, to bring people together and entertain them like never before. It's exhausting to plan but so rewarding when it finally comes together".
Chantal Bekker

With more than 19 years as a resident of the town, Chantal is an active member of the Middelburg Community. She is also part of Rotary – who were approached by the Middelburg Aero Club to set up the beer tent and VIP area.
Along with a team of about 50 people, they took control of their responsibilities without hesitationm but determination to exceed expectations.
This too, was immensely exhausting, but with support and resources, Chantal says that the true reflection was that of a community driven to succeed and motivated to unite people.
"When you work in an environment that requires interaction with hundreds of people, many things can go wrong. But we had an amazing team and the public created an atmosphere of happiness and all round good clean fun. We couldn't help but acknowledge the fact that this event does so much good for our town, and we are really grateful to be part of the Middelburg Airshow and this community".
Elma Breytenbach
As an employee at Pegasus, one of the main sponsors of the Airshow, it was a natural process for Elma to get involved – partly also because she really wanted to.
Elma was responsible for public safety, and assisted with ground control and vendor spaces.
Her work started closer to the event date, and she says that as the Airshow drew nearer, so did the hard work and pressure to deliver increased.
"We took up this responsibility because we knew we could do it. Of course it wasn't always easy, but we were committed to the cause and are really proud of what we achieved," said Elma.
The best moment for her was the priceless facial expressions on little kids, eyes engrossed on magnificent aircraft and glaring high in the sky.
"When you see those little faces, then all the effort, all the hard work and frustration, melts away, and every little thing we managed to do for them becomes so worthwhile".
Emmerentia van der Merwe
Born in Stoffberg, Emmerentia has always been part of the Middelburg community and has a selfless attitude towards people and children across all walks of life.
She has been mainly responsible for the Charity Day event, which gives the opportunity for children at Victim Support Centres, Orphanages and Care Homes to experience first hand aircraft and even go for a ride in a helicopter – for most it's a once in a lifetime experience. People from Old Age Homes, Hospice and others are also invited on the day.
Whilst this might be a whole separate requirement in terms of planning and preparation, Emmerentia pulled it off without a hitch and was commended by fellow organisers and the public alike.
"For me it was incredibly special to be given the opportunity to make everyone feel like part of the community, so that no one feels left out," she said, speaking about organising skydivers to land at various schools, some in the township, to bring the feeling of the Airshow right to their doorstep.
"The look on their faces, the immense joy and excitement. Many have never seen or experienced an aircraft before, and it's so special for them. That's the most rewarding feeling ever". Emmerentia said that another reason for the events success was that they had a lot of help and support from the community of Middelburg, without which none of this would have been possible.
"It's a privilege to be a part of the Charity Day and to bring a little happiness to people who deserve it the most".
Irene Lovett
Irene was responsible for hosting the VIP's on the day of the Airshow – which comprise of people who in one way or another contribute to our airshow and to aviation in general. This included more than 250 people, including the Mayor and his entourage, Sponsors, Display Pilots, Media, Aviation Authorities, and Emergency Services.
Sit down meals were served and snacks and drinks served throughout the day. The area also provided for a viewing deck from where the Airshow displays were enjoyed in
comfort.
"The VIP's are considered an essential part of the success of our Airshow and we are greatful for the contribution and for that reason we enjoy taking care of them. We also filled many Guesthouses in Middelburg which I consider business to our own community, " said Irene. "I believe that it does not take one person to manage and do all these things but a 'Great Airshow Committee Team.' Thank you for each and everyone's support to make the Middelburg Airshow a great success".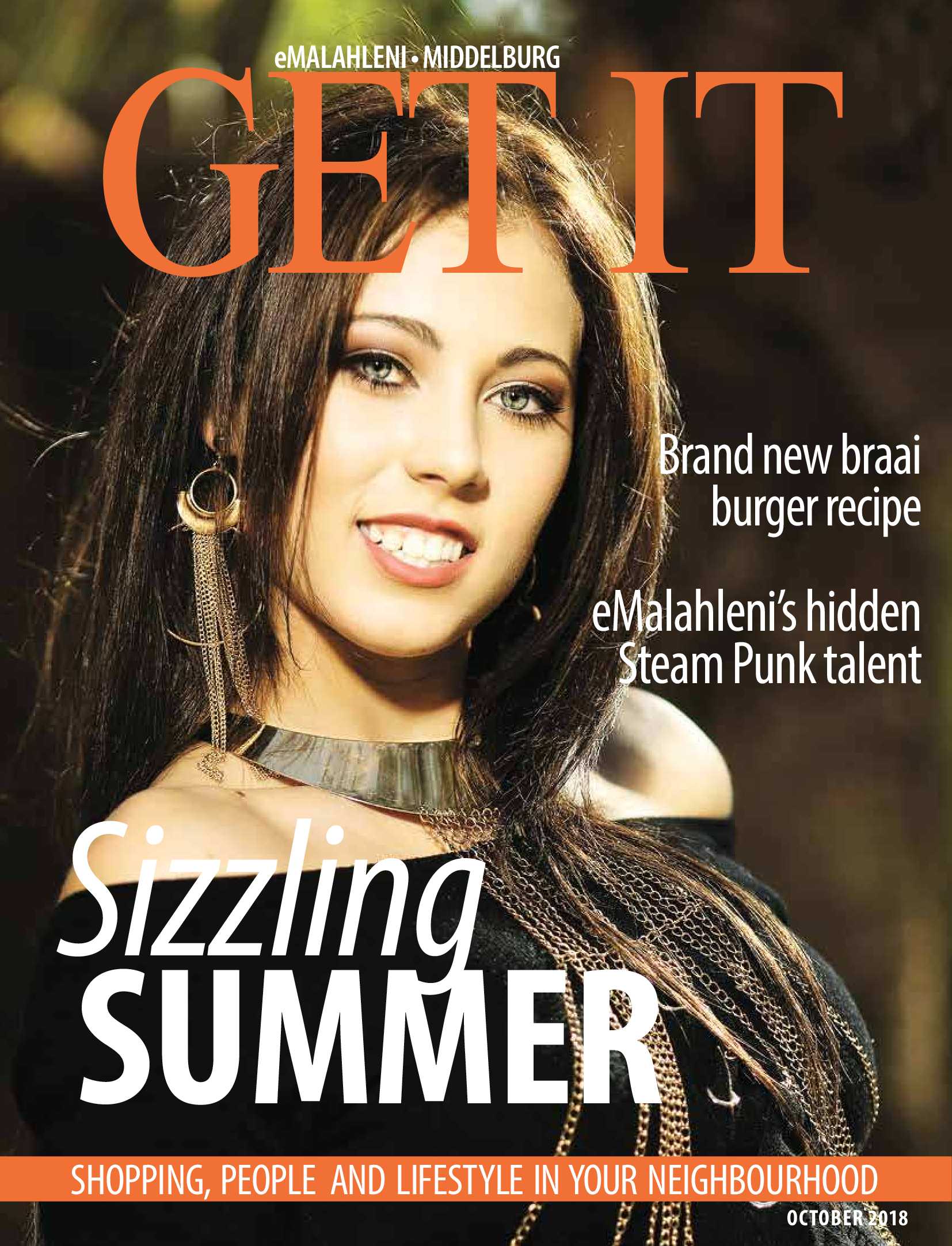 is a national brand of premium free magazines available in centres across the country.
to see other Get It magazines in the network.