I am Jane
Such a story is one motivational speaker Nicci Gates shared with guests at the Get-It Ladies morning that was held in August to celebrate women's month.
After Nicci shared the story of a woman called Jane there was not a dry eye left in the audience.
Here is Jane's story….
Jane is a successful business woman, a loving, caring mom and a wife dedicated to make her husband happy and make her marriage a success story. But Jane walked through a desert to become the woman she is today.
Jane was born in 1985 to a family that from the outside looked like your normal suburban family. She was the younger of two daughters.
"My grandfather was an alcoholic and they say it runs in the family. My grandfather passed away before I was born but he left a trail of scandal and heartache to last two millenniums. After that my dad fell into a depression and by the time I was born he was already looking deep into the bottle. With heavy drinking, comes some really bad decisions and the company you keep start becoming questionable at the very least," Jane's story began.
"There were always strange men visiting or staying with us and by the time I was roughly two or three years old I was molested by two different so called 'friends' of my dad."
She was  in preschool when the police visited the school on a career day and the nice lady spoke about right and wrong and that you should speak to your parents or a teacher or a family member if something is going on that is making you feel uncomfortable.
"I went to my dad. His response was that people who drink don't know what they are doing and that kids shouldn't be in the company of adults in anyway…"
These words had a profound effect upon the little girl with the big blue eyes.
"From there on hiding was my best weapon, and I hid from them but mostly I hid from myself."
Jane's mom was a nurse at the time working nightshift and when she wasn't working she was drinking too. She would sober up at times and life would seem almost normal. But the more drinking there was the more violent and destitute their home seemed
"I became so good at hiding as well that the uncomfortable moments, the 'come sit on my lap' the inappropriate touching and prodding became less, and eventually stopped as I grew older as well and at some point they moved out, moved away and some didn't come around any more but were replaced with others."
Jane started pre-school and the scars of her situation she endured at home became visible.
"I started primary school with a very scarred and low self esteem… and that is when the bullying started. I was teased and became popular for the wrong reasons and there were times when I wished I was dead. For a kid that is a scary place to be…"
Her father was sent to rehab and instead of good memories of riding on a train during a family outing, Jane's memories are weaved with images of getting on a train to Pretoria and walking for kilometres with no food or water to go and visit her dad.
"He was a different person and I almost liked that version of him.  It however didn't last long, he came home and within the first week he started drinking again and I remembered the fights and the screaming and the violence that erupted in our house. I almost wished he didn't go, because for a moment he teased us with how life could be and when he took back his bottle he changed into a very angry very violent man…"
In the 'safety' of her own home Jane was hiding again, away from the violence and drinking.
"My mother gave up the fight and was by then also drinking heavily. I remember her being too drunk to go and buy her own booze and she would send me with a note to the bottle store saying that she needed brandy for a tipsy tart.  I was about nine years old the first time."
One day when walking back with a bottle of brandy, a man sitting under a bridge she had so many times walked underneath, said if she does not give him the booze he would cut her throat
"He had a knife with him and I could see it wasn't sharp at all but I wasn't going to take chances. I ran straight back to the bottle store and told them what happened
The lady at the bottle store replaced the brandy and I remember feeling so proud that I wasn't going to disappoint my mother. Looking back at that now I realize what a twisted sense of pride that was."
All through her primary school there was so much violence and a constant stench of drunkness and empty bottles. She learned to cook her own meals. Her and her sister often took her dad's card out of his purse, to buy some food for them.
Social Services were regulars in their house as the neighbours often alerted them that there was trouble.
High school was a bit better and the bullying eventually subsided.
One evening her dad had passed out with a cigarette in his hand and had set the bed and curtains on fire. Jane was asleep in her room when her sister woke her and they were able to put the fire out before there was any major damage.
"What struck me was that night both my parents went to the kitchen after the drama got themselves a drink and went back to sleep…"
Jane's sister left school when she was 17 and moved away, "I wished that I could go with her but knew that someone had to look after my parents. My mother tried to commit suicide twice. I cannot remember how we got to the emergency room the first time but the doctors were very angry with her. She slit her wrists and I remember sitting in the waiting room thinking how awful this feeling of being enough to stay alive for."
Eventually Jane's parent's got divorced when she was 14-years old.
Her mom was having an affair with one of her dad's best friends and they ended up moving in with him.
"My initial thought was relief but that turned into horror as we just moved from the one drunk house to the next. I can still deal with a father who hits me and shoves me around and screams at me but a stepdad who kept on touching me inappropriately, kept on walking into the bathroom when I was in there every time he got drunk…
I could not handle this and I was done."
Things changed when her mom and stepdad went to rehab and pulled their lives together.
Again life gave Jane a hard knock. One night four armed men entered their home and caught her mom and stepdad off guard while they were sleeping. She woke up startled by the screams of her mother. Knowing her stepdad had some health issues her immediate thought was that he was having a heart attack.
"I jumped out of bed and made my way down the passage and as I reached their room I saw lights… I didn't want to go in because I thought maybe they were getting dressed…. So I knocked on the door. I don't know who was more surprised, me or the guy that flung the door open. He had hatred in his eyes and he was aggressive."
Jane was tied up and gagged.
"The floor was hard and I did not know how long I would have to lay there for, I was uncomfortable and started wriggling around to get a better spot. They saw me wriggling and started kicking me, another guy then shoved a gun in my mouth and told me to lay still.
"I was shaking uncontrollably and I just started praying to God to send an angel to protect us. All of a sudden I felt warmth and comfort and I stopped shaking
I was calm, as calm as I have never been in my life.
"They were carrying out our microwave and were using the bathroom window that was en-suite to my parent's room so they had to walk over me… In the microwave was a bowl that still had carrots and water in. As they walked over me the water leaked out and fell on me and in my mind I made the assumption that they had just thrown petrol over me and that they were going to burn us… The mind is so powerful that I could smell the petrol. I kept on praying and praying and just before they left one of them stopped and pulled up my pyjamas and as he starting tugging at my underwear, I felt my body going very warm and he jumped back as if he had burnt. The others that were with them pulled him towards the window and I could hear them leaving"
The robbers were apprehended a month later and one was fatally shot.
"I moved to Pretoria the January of 2004, I left everything behind but my emotions and my trauma came with me. I was summoned to testify in court and I didn't want to.
I sat on that chair and as they were looking at me while I testified I saw that they were still very young, that their eyes were empty and that they did not feel sorry for me. But I felt sorry for them. That day I learned what true forgiveness was."
This would not be the last robbery Jane would experience. While working at a gift shop in Littleton Centurion she witnessed a second robbery which left her scared and emotionally drained.
In 2006 she moved back to Secunda and tried to rebuild her shattered life. A year later she married the man she knew a 'lifetime' already as she met him in 2000.
The couple made eMalahleni their hometown in 2008
"Here I was finally happy and I could finally say that I felt at home. I felt like I could really root myself here and start building the life that God had designed for me."
After two miscarriages they were blessed with a beautiful bundle of joy and named him Jaydon which means 'God has heard'.
"At the time of falling pregnant I was still working for a commercial radio station and this is where I met one of my best friends, mentors unbiological sister and then business partner. We started our own marketing company in 2010 and grew our business to something that we were both proud of.
"I designed many programs that I felt could inspire and create change and started doing talks at school about bullying and finding my freedom to feel and be successful and my own kind of normal. My partner eventually moved on to create her own beautiful destiny and today we are best friends."
In 2013 God again blessed the couple with a baby, this time a little girl called Amelia.
"My stepdad eventually came into remission and he was cancer free but the drinking went on and him and mom were both drinking heavily again and they still fight the battle of alcoholism today. At times I want to believe that they are fine and healthy and as my hope becomes too big the disappointment comes in bigger waves."
We are all so caught up in our own lives that we forget to look at those around us whose mountains are bigger than ours.
Jane's biggest fear once was that people would know where she came from and see who she truly is. She used to believe that her past defined her, but she learnt to forgive.
"Until I owned up to my wounds I was never able to heal them. To me that person was always Jane Doe… she didn't exist anymore, only until I pulled her back into existence could I talk to people about her about me and what I had to do to climb my mountains."
You could hear a pin drop when Nicci introduced Jane to the audience, "I am Jane…"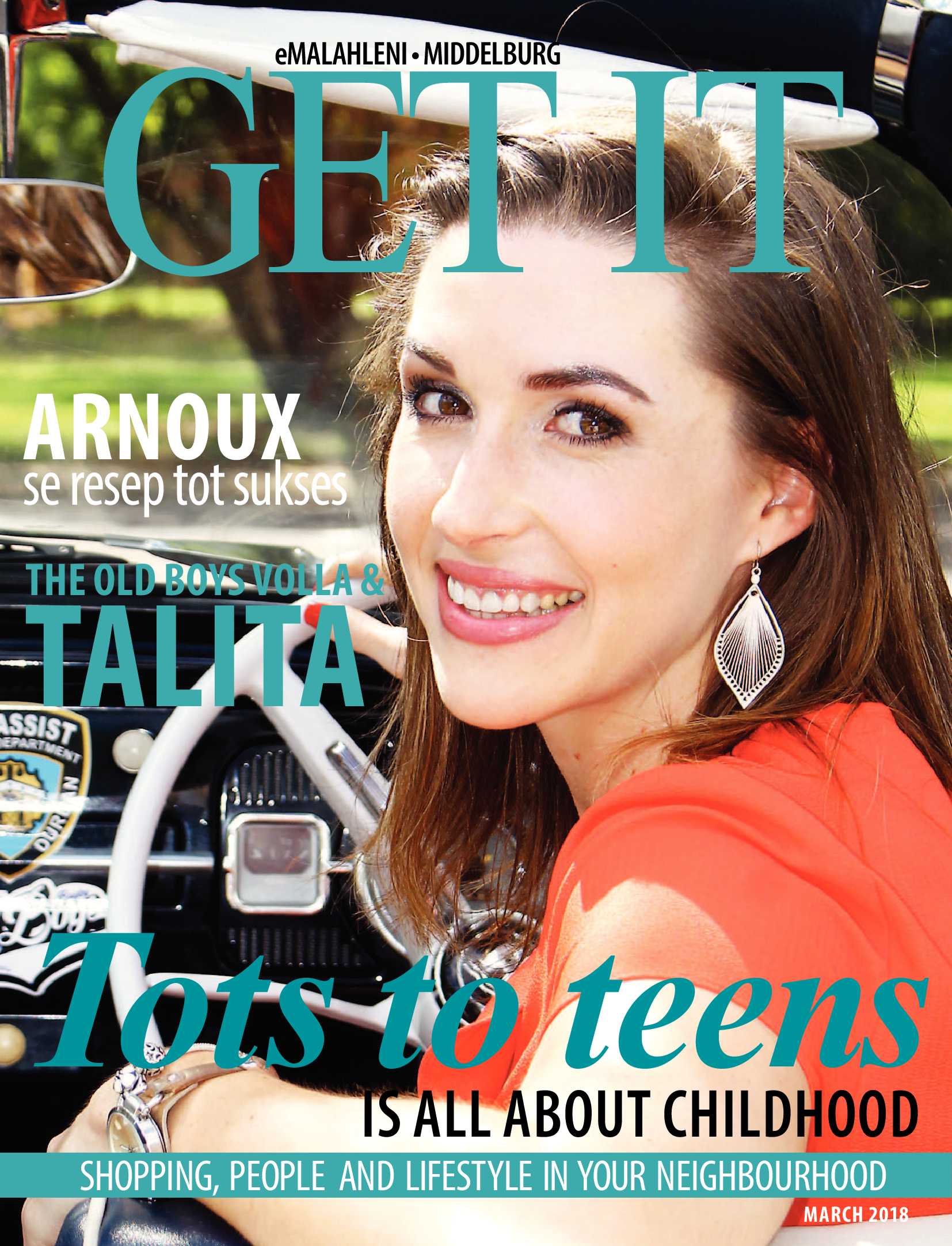 is a national brand of premium free magazines available in centres across the country.
to see other Get It magazines in the network.